GBA Nethack?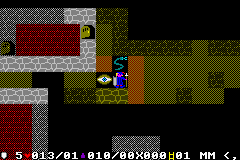 Well, not yet, anyway:

After wasting several hours playing Nethack, the greatest video game of all time, I decided that there must be a GBA port somewhere. It turns out that not even the venerable and versatile Game Boy Advance can handle the memory requirements of good old NH. Furthermore, the game uses many different keyboard commands, so the GBA's relative paucity of buttons makes inputting commands nearly impossible.

Kudos to Jeff Lait! He's written POWDER, a roguelike for the Game Boy Advance. Though I question the choice of name, this game does a decent job of recreating an authentic dungeon crawl.

Now that the Nintendo DS has had some time in the public eye, where are all the enterprising hackers for my portable Nethack? The DS touchscreen ought to make a menu-driven command system a snap. As for the memory requirements, I don't know if the new handheld is up to snuff, but let's see what we can dig up.